When we are talking about vast mixture of culture, one and only name is Udaipur. It is also known as "Mewad" the place of Rajput. Mewad region of the past has been known for its "Dharti-Dhan" - Riches of the Earth since time immemorial. These unique Geo-resources, both renewable (agriculture & forest) as well as the non-renewable ones (minerals & rocks-the "Depleting Assets") along with the geomorphic features, have played significant role in shaping the history, sciences, sociology of this region.
Udaipur is a city of royalty and has been the capital of Mewar rulers for decades. It was founded by Maharana Udai Singh II in the year 1553. Maharana Udai Singh met a hermit while he was hunting in the Aravalli Hills. The sage blessed the king and advised him to establish a kingdom in this fertile land and told him that it would be protected by the great Aravalli Hills. As a result of this, Udai Singh II established a residence on the ridge east of Pichola Lake.
Chanakya in his scholarly treatise on statecraft, economic policy and military strategy, Arthashastra (अर्थशास्त्र) eulogize the significance of mineral wealth for a nation as follows and it held good for the kingdom of Mewad as well:

'The treasury has its source in the mines; from the treasury the army comes into being. With the treasury and army, the ornate earth (territory) is obtained (retained).'

Culture of Udaipur

The city has found the perfect balance between conserving the rituals and customs of the past while still keeping up with current advancements. Like any other city of Rajasthan, folk dance and songs play a significant role in the city's cultural legacy. Tourists can enjoy folk dance and music at Bagore Ki Haveli, tribal theatre performances from the Bheel community and unique horse safaris with the typical Marwari breed, among other highlights.

The vibrant folk dances of Ghoomar, Bhavai, Kachchhi Ghodi, Terahtaali and Kalbeliya form a very important part of the Rajasthani lifestyle. Udaipur is a cultural insight into the deep lanes of Rajasthan. A storehouse of traditions and royal heritage, it is also known as the city of lakes. Where in these modern times, we hardly find any historical preservations of our lifestyle, Udaipur has somehow managed to keep its originality intact. The forts, the palaces, grand interiors, handlooms and handicrafts, every bit of Udaipur is a display of royal lineage.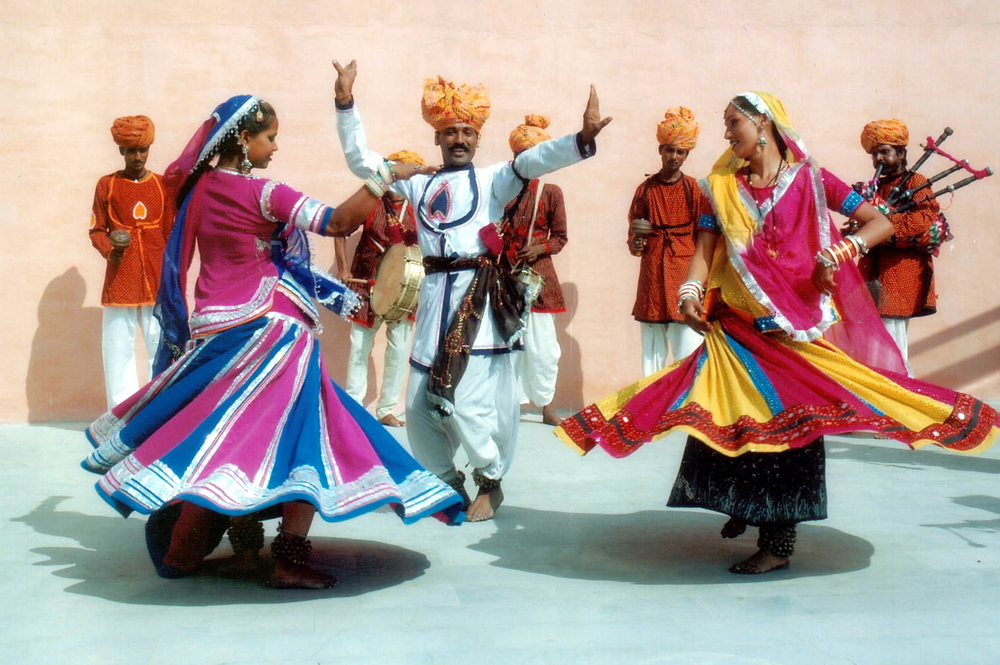 Udaipur is a romantic land that had been favorite place of the Rajputs. This beautiful city has re

ceived a rich cultural heritage from the bygone age. If you are planning to tour Udaipur, it is quite necessary to know about the culture, customs and traditions that the city follows. In the present times, Udaipur has adopted the life style of big cities; still there are some customs & traditions in the city that would be new for you. Udaipur receives ample number of tourists from all over the world every year. The city is still inhabited by people of Bhil tribe, so you could see people dressed in typical Rajsthani dress with loads of silver jewelry during your trip. Colorful festivals and fairs depict the cultural prosperity of Udaipur. The lakes, temples, huge forts and palaces boast about the rich legacy of this city. In this article, we have covered the subjects of people, cuisine, language, religion, folk dance and music of Udaipur.

Festival

The Gangaur Festival is celebrated in summer and is marked by a traditional procession that passes through the city with bullock carts, chariots and performances by local artists. Other popular festivals are Hariyali Amavasya, Jagannath Rath Yatra and Jal-Jhulni Ekadashi. The locals showcase their talents in the local fairs where they promote their arts and crafts. The dynamic and vibrant dance adds sparkle to this romantic city of Udaipur. Udaipur doesn't have its own dance that is especially linked with it. However, the dances that are famous all over Rajasthan make the dance of Udaipur too. Bhavai, Ghoomar, Kachhi Ghodi, Kalbeliya and Terahtaali are the unusual dances of Rajasthan. Still, dance of Dandi Gair is associated with Marwar and hence with Udaipur. Talking about music, the dwellers of Udaipur find solace in the melodious music of Morchang, Naad, Tanpura, Sarangi and many other instruments that used to echo the courts of Mewar rulers.

Conclusion

Here we can have all culture, religion & custom combination. To become a part of this vast variant culture & people VNV Tours is here. We have best facilities for you. Do you want best Cab Hire in Udaipur or Taxi Services in Udaipur? Then the only name is ours. With this we are also known for best Udaipur Taxi Services or Taxi in Udaipur at an affordable price.

Contact Us:

Mobile: +91 967 278 5555