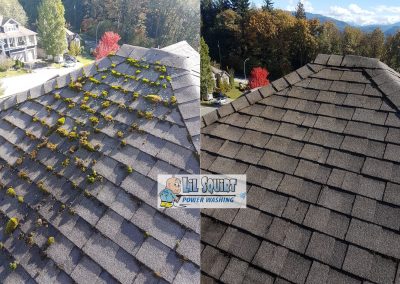 Most residents living in the Maple Ridge, Pitt Meadows and Mission areas of British Columbia's lower mainland are more than familiar with everything the weather has to throw at their roofs. Rain, snow and windy weather are just a few things that can cause a clutter of leaves, branches and other debris to build up on your roof. Even without the debris and clutter, your roof should be cleaned on a fairly regular basis in order to avoid unsightly build ups of things like algae, moss, and lichens. These roof staining organisms thrive in predominantly wet climates like the lower mainland and can cause your roof to deteriorate over time. Removing these stains isn't as simple as you might think, so be sure to consider the following reasons why a professional roof cleaning service is an ideal choice:
Avoid Wood Rot
Algae, moss, lichens and other organic stains will not only cause your roof to look bad but can wreak a great deal of havoc on the integrity of your roof shingles and the wood underneath as well. Without a thorough professional roof cleaning, these stains will continue to thrive year after year, eventually causing the wood on your roof to rot, which will lead to a number of costly and potentially dangerous structural problems.
Pressure Washers Won't Be Enough
By now most people are familiar with how effective and easy to use a power washer can be around the house. From tackling stains on driveways and siding to clearing debris from your gutters, a power washer can be a big help. Unfortunately, due to the nature of the organic stains on roof shingles, a power washer isn't an effective tool to clean your roof. In fact, you will end up doing more damage to your roof if you attempt to power wash the shingles on your own, so it is often best to avoid using one altogether.
We use a low pressure, soft washing approach, which coupled with the professional cleaning solutions we use, which ensure no damage to your roof, and an exceptional, long-lasting clean that will have also attacked the algae, moss and mildew build-ups present. This approach is essential for a longer lasting, and most effective job for you.
Insurance Can Be Cancelled
More and more insurance companies are beginning to insist that homeowners keep their roofs clean of stains and debris. This is mainly because, as pointed out above, the structural integrity of a stained roof becomes questionable the longer a stain is allowed to grow unchecked. As a result, the insurance company may have grounds to cancel your policy, which makes it even more important to be proactive and seek out a quality roof cleaning service that will help you avoid any issues with your insurer.
Helps Keep Energy Costs Low
Your roof not only keeps out debris and weather, but it is also designed to reflect sunlight in order to improve the efficiency of your heating and cooling systems. If you allow stains on your roof to continue to build up, it makes it harder for the sun's rays to be reflected back, meaning more heat will get absorbed by the roof, and your energy bills will increase.
Roof Cleaning Keeps Your Roof Looking Better for Longer
One final reason why you should be sure to hire a quality professional roof cleaning service to take care of the stains and debris on your roof is to keep the roof itself looking its best. Eventually, every roof needs to be changed, but with proper care and professional cleaning, you won't have to worry about fixing your roof any time soon. With a complete roof cleaning you'll be amazed at how good your roof looks and how much it adds to the attractiveness of your property!